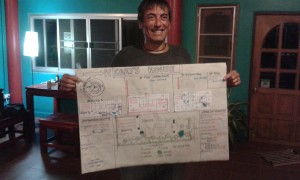 Use these questions as a guide to create a comprehensive permaculture design for any piece of land. Download the Permaville project application and fill out the information for your project. Then email us your project, start raising funds and join the Permaville community.
General information
What is the name of your project?
Where is your project? Town, nearest city, country
What are the GPS Coordinates of your site?
What is the size of your site? (1 hectare=100x100m=10,000 m2=2.5 acres)
Who is the owner of your land?
What is the website of your project?
Who is the contact person and email address of your project?
What is the mission of your project?
What are the goals of your land?
What is the history of the land?
How many people currently live at your site?
Describe the existing conditions – Is there access, water, structures, etc?
What permits do you need to get started?
Design methodology/strategies
What is the climate?
Describe the seasons.
What is the temperature range?
What is the annual rainfall?
Satellite map / site map
Zoom in to your site on Google maps and print a PDF of the map. Or walk your site and sketch the boundaries. Draw a sketch on a separate sheet of paper. It doesn't have to be to scale. Include the following information:
Site outline – Show the borders of your site
Legend – Including the name of the project, location, climate, and size of land as well as symbols for existing infrastructure
Infrastructure – Existing roads/paths, gardens, structures and water bodies.
Compass and scale
Zones and sectors
Contour lines
Long-term plan
You can include all information on one site map or create multiple designs, as needed. Use the site map to illustrate a long-term plan for your site. List the most appropriate elements or details needed to reach each self-reliant goal.
Earthworks – Capture rainwater and provide access to the site
Which earthworks elements would be appropriate for your site?
Indicate earthworks elements on site map
Natural building – Provide housing for people and animals
What types of buildings do you need to construct?
What available materials do you have and would be most appropriate?
Indicate natural buildings and structures on site map
Water – Clean, conserve and reuse water
What is your source of water?
What is the quality of the water?
How will you filter water?
How will your transport water?
How will you dispose or recycle water?
Indicate water bodies, elements and water lines on site map
Sanitation – Produce no waste
What kind of toilets will you use?
How will you dispose of commercial waste?
Indicate sanitation elements on site map
Soil – Build healthy soil
What is the soil type? You can take multiple soil tests.
What are the available organic materials around your site (for soil building)?
Indicate soil elements on site map
Nursery – Save seeds
What fertilizers could you make?
Where will you source your seeds?
Indicate nursery elements on site map
Garden – Grow edible plants
What pioneer/nitrogen-fixing pants grow well at your site?
What kind of gardens will you design?
What kind of herbs and crops will you grow?
How will you water/irrigate the gardens?
Indicate gardens on site map
Trees – Grow useful trees and food forests
Where will you place your forest(s)?
What is the design of your forest?
What kind of trees do you want to grow?
What tree guild plants would work well?
Indicate the forests on site map
Aquaculture – Raise healthy fish and plants
Where will you do aquaculture?
What kind of water body will you require for aquaponics?
What kind of fish will you raise, water plants, grow medium?
Indicate ponds/aquaponics systems on site map
Insects – Raise beneficial insects and keep pests away
What kind of insect elements will you install?
What kind of plants will you grow to attract beneficial insects?
How will you lure insects away?
Indicate insect hotels, bee hives, bat boxes on site map
Animals – Raise healthy animals
What kinds of animals will you care for?
What design considerations are important?
What will you feed them?
Indicate animal houses
Kitchen – Prepare, ferment or preserve food grown on site
What sustainable kitchen elements will you include?
How will you add value to things you grow?
Indicate kitchen and brewery on site map
Tools and technology – Use energy efficiently
What hand tools, power tools, simple machines or heavy machinery will you utilize to install your permaculture plan? How could you make any tools or machinery?
Indicate tool shed and workshop on the site map
Phase plan
What are the elements you will install in Phase I at your site? List them in order of priority.
What are the details of these elements? Include general tasks, materials, and costs.
Draw at least 1 schematic design for one of your elements. It could be a zoomed in area of your site (like zone 1 area) or it could be a technical drawing of an element or a flow diagram of all elements stacked together. Show as much detail as possible. Include any or all of the following details:

Materials, dimensions, details, procedure (if an element installation)
Flow diagram, model
Plan view/perspective
Indicate on site map where it will be located
Budget
What are your general startup costs? (Land, tools, transport, fees, permits)
What will your Phase plan cost to install (material costs)?
Do you need to do any fundraising?
What are your long-term material costs?
What are your projected running costs? (Accommodation, food and overhead)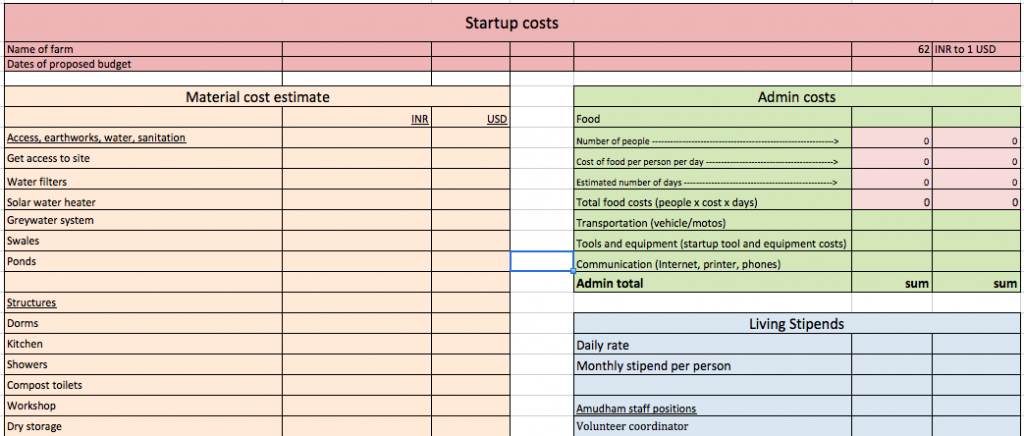 Implementation
What is the estimated project start month/date?
What is the estimated duration of this Phase? Consider a plan that will last 1-3 months.
Who will install phase I – you and family/friends, volunteers, paid laborers?
How can people participate?
Will you hold any workshops or permaculture "blitzes" to install Phase I?
What is the daily schedule for Phase I installation?
Once you complete your phase I installation, what is the next step?