Permaculture

Permaculture is the study and practice of sustainable living. A Permaculture Design Course (PDC) is an arrangement of courses of study to learn about sustainable living practices and a platform to discuss good ideas and practices when applied to a piece of land.
Permaculture Design courses often involve theoretical and practical components. In practical courses, students gain practical hands-on experience from the day's lesson as it relates to the needs of the site.
Permaculture is many things to many people. It's a design science, a study of nature, an independent practice and a community or tribal activity. The following words further describe what Permaculture is as it relates to common patterns found in nature. As with anything in nature, permaculture begins with a point and grows exponentially in all directions into infinity.
Permaculture is                                             Natural pattern
Reason                                                            Point (1D)
Process                                                           Line (2D)
Perspective                                                    Branch (2D)
Frequency                                                      Wave (2D)
Community or tribe                                      Circle (3D)
Collection                                                       Cylinder (4D)
Union or helix                                                Torus  (5D)
To distinguish this practice from other things, the following words describe what Permaculture is not:
Permaculture is not
Formal
Government
Religion
Corporation
Principles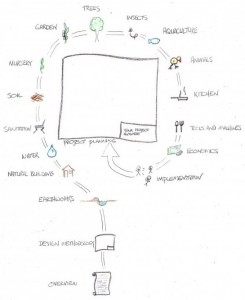 A principle is a fundamental proposition that serve as the foundation for a system or chain of reasoning. Permaculture principles are as follows:
Earthworks – Capture rainwater in the soil and provide access to the site
Natural building – Provide housing for people and animals
Water – Catch, clean, conserve and reuse water
Sanitation – Produce no waste
Soil – Build soil
Microorganisms – Grow microorganisms
Nursery – Save seeds and propagate plants
Plants – Grow and harvest edible plants
Trees – Grow useful trees and food forests
Insects – Raise beneficial insects and keep pests away
Animals – Raise healthy animals using the resources available
Kitchen – Prepare, ferment or preserve food grown on site
Appropriate technology – Use energy efficiently
Economics – Create a surplus
Project planning – Install a permaculture design
Ethics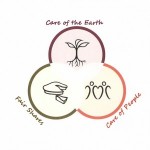 Ethics are moral principles that govern a person's behavior. There are three aspects to the ethics of permaculture:
People care – Be considerate of everyone's time, interests, thoughts and actions, including our own
Earth care – Care for the earth, the animals, the plants, trees, fungi, microbes, water, air
Fair share – Fairly distribute growth/surplus among humans and nature