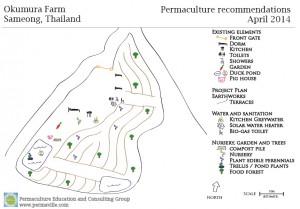 Location
Samoeng, Thailand (north of Chiang Mai)
Size
7 rai / 3 acres
Terrain / soil
The site is located at the top of a mountain with 180 degree view of a mountain range. Just below the ridge, the land is quite steep. So many terraces will have to be dug. Soil is clayey.
Vision
To create an abundance and a variety of food and create a nice family environment.
Technical specifications
The following is a list of recommended action steps for Okumura Farm, to help the systems run effectively, efficiently, and sustainably in the future, while incorporating Permaculture principles. These recommendations come after a two day visit from Permaville Education and Consulting Services as well as conversations with the founder and community.
This report has been laid-out, first with an overview of Permaculture, its ethics and principles. It then moves into a generalized list of observations and recommendations. More detailed technical information regarding the implementation of these recommendations will be provided later in the report.
Pictures
Here are some pictures of the site: