Congratulations to the Mango Tree PDC course participants!
They are: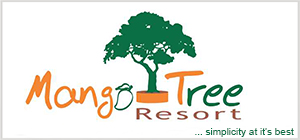 Devendra Tiwari, Nepal
Govindra Gurung, Nepal
Kishan Gurung, Nepal
Bhupen Pun, Nepal
Rachel Hamilton, New Zealand
Lonneke Zinkstok, Holland
Mat Kerman, France
Mark Fleischhaker, Canada
Budget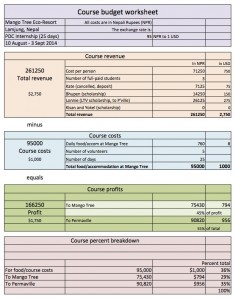 Schedule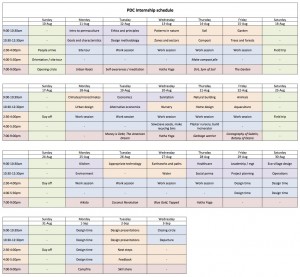 Pictures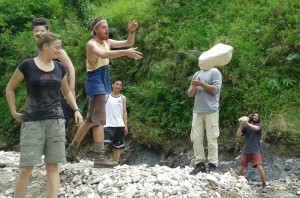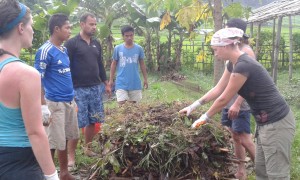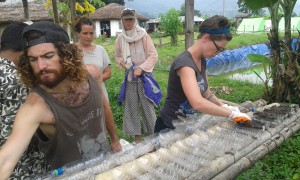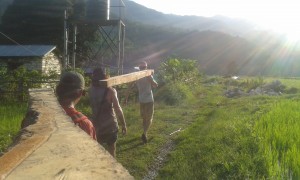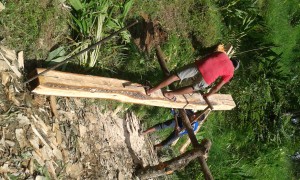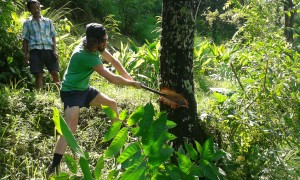 Original Course Write-up
Earn your PDC at Mango Tree… Come get hands-on experience working on permaculture projects in Nepal!
What you can expect to learn
In this course, you can expect:
Learn about all aspects of permaculture,
Get hands-on experience working on projects for Mango Tree and the community,
Design a complete site plan for a real project,
Earn a Permaculture Design Certificate (PDC), and
Live, eat, work and have fun with the Mango Tree community!
Where is the course
Mango Tree is in Lamjung, Nepal about a 4 hour bus ride from Kathmandu. The 2 acre site is a situated right on the edge of the Marshyangadi River with a great view of the lake by the dam. On the other side are beautiful mountains with many villages around. Most of our surrounding community is involved in farming.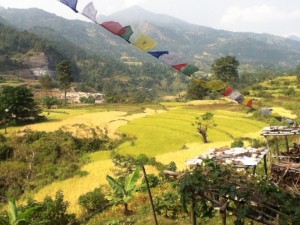 Our climate has four seasons. During the course we will still be in the rainy season, which means we will get a lot of rain, but it will be warm. Expect lush green landscapes and waterfalls being full of water.
For more information about the site, visit Mango Tree Eco-Resort. 
Accommodations
We will be sleeping at Mango Tree in tents (Keep in mind – it is the rainy season),
We will have access to flush toilets and showers (no hot water yet, but we will be building a solar water heater during the internship!),
Meals will be traditional Nepali food, prepared and served at Mango Tree.
Practical work
Some projects we plan to install during the internship:
Water – Install grey water system and solar water heater for showers
Garden – Make compost, plant trees and plants, design landscape
Building – Build a nursery, build a bigger adobe oven, build accommodation and classroom
Trail maintenance –General cleanup, make signs for hiking trail 
Permaculture Design Course (PDC) curriculum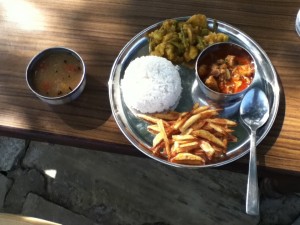 The course will include lessons and discussions on all aspects of permaculture. More information about the Permaville Course can be found at Permaculture Design Course information. The following curriculum will be covered throughout the month:
Overview
Introduction to Permaculture, Principles and Goals, Sectors and zones, Design Methodology, Patterns in Nature, Urban Design, Climates and Microclimates
Project Plan
Physical areas – Earthworks, Natural building, Water, Sanitation, Soil, Compost, Nursery, Gardening, Trees, Forests, Animals, Fermentation, Kitchen, Environment
Technical areas – Appropriate technology, Electricity, Mechanics, Economics
Social areas – Meditation/yoga, Healthcare and Hygiene, Youth and Family, Education, Culture
Implementation
Project management, Budgeting, Programming, Web design, Marketing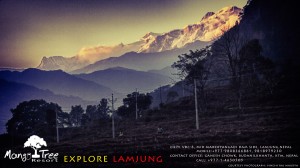 How much
75.000 Nepali rupees ($750, covers food, lodging and program costs for 4 weeks)
*Scholarships are available for people from Nepal.
How to sign up
[button link="https://www.eventbrite.com/e/mango-tree-permaculture-design-and-practical-course-pdc-tickets-10923064179″ newwindow="yes"] Sign up for the course[/button]
We ask you pay $150 to reserve your slot in the course.
Fundraise for your Tuition
Look into crowd-funding your project through WeTheTrees.com. It is a great way to reach out to family and friends and offer an easy way to contribute to your education.

Facilitators
The course will be facilitated by permaculturists Troy Johnson, Ben Dunn and Brian Newhouse. Go to www.permaville.com/about to learn more about the instructors. The project will also be managed by Devendra Tiwari, the Founder and Director of Mango Tree.
What we will do everyday
Each day will include a good balance of hands-on work and classroom time. We'll get up about 630, eat breakfast at  7, talk about what we'll do for the day, have a few classes, eat lunch, take a siesta, have an afternoon work session (or the other way around), break, eat dinner, have an evening activity like watching a movie or doing an activity, then go to bed around 9 or 10.
During work sessions, we'll be working on projects outlined in this project plan: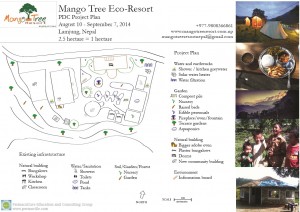 What to bring
You may want to bring the following items: clothes you don't mind getting dirty, also a few other changes of clothes, sandals or flip flops, toiletries, basic first aid, sunblock, water bottle, rain jacket, sunglasses, hat, working gloves, rubber boots if they prefer boots/wellies over flip flops, or good hiking shoes, a notepad/pens, mosquito repellent. Natural soaps and deodorants only please. Internet access is limited at site. Mango Tree will provide all tools and materials. 
Contact
For questions about the Permaville course, email contactus@permaville.com.
For questions about the Mango Tree site, email contact@mangotree.com.np.